June 2020 Release: New API, Batch Generation Features and More
We have built a brand new and significantly more robust Rest API which makes integration with Legito easier and allows Legito to add more API use cases. For your convenience, to assist with the transition, we have created a guide on how to migrate successfully from the legacy API to the current.
Favorite Settings for Batch Generation
Now, In addition to Favorite Settings for Legito documents and Import From Sheets, it's possible to create Batch Generation Favorite Settings.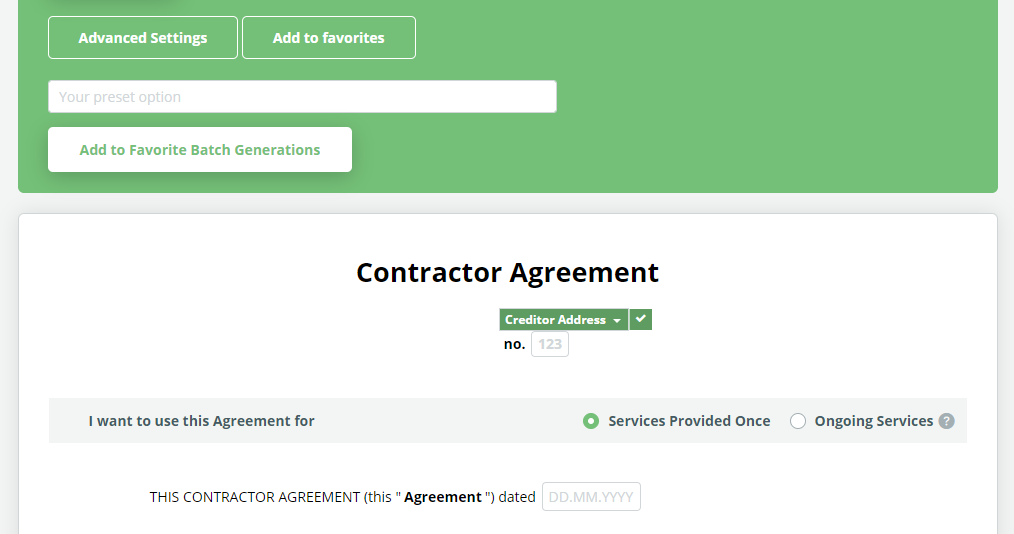 Batch Generation: Matching Fields in Bilingual Documents
Now you can separately match fields in each column (language) of a bilingual documents.
New Permission for Downloading Documents in View and Locked Mode

Download permissions now let you to define whether a user is permitted to download a document if that user only has "View Only" access, or if the document is locked. 
Template Editor: Enhanced Working with Images
You can set the size of the images not only by drag'n'drop, but also by inserting the number of pixels. Also, pictures may be set to exceed the designated document area.
Improved integration with DocuSign
DocuSign Data extraction now includes email contact information in addition to signatory names.

Improved Document Management Performance
Our document management area's back-end functions have been redesigned to provide significantly reduced response times for search or filter requests.

New Conversation Notification
Decide when to receive email or in-app notifications on new Conversation messages.