July 2021 Release #2: Objects
1) Objects
Legito Objects exponentially increase your CLM automating power.
Operations, Legal, Procurement, Sourcing, Human Resources, and Sales teams all can create customized Objects to manage all aspects of a document's lifecycle, with no coding required.
Legito customers use Objects to build applications such as:
Tailor-made knowledge repositories, including clause libraries.
Customized case management tools.
Client and vendor management lists that align with their records.
Real Estate property reports.
These are just a few of the countless possible bespoke solutions, including (soon to be implemented) integration with Legito's automated documents.
An Object Record consists of Objects Properties (similar to Document Records' Properties).
To administer Objects, go to My account => Settings => Objects. There are three tabs:
Objects, where Objects may be created, modified or deleted
Properties, where properties may be assigned to Objects
Property Groups (the same functionality as Property Groups for Document Records
Only Admins have access to the Object settings.

2) New Properties for Document and Object Records
There are 4 new types of Document/Object Records:
Object Record: Single Item
Object Record: Multiple Items
Document Record: Single Item
Document Record: Multiple Items
The purpose of the new Document and Object Records is to connect:
Records from one Object to Records from other Objects, and
Object Records to Document Records.
It is possible to cross-connect these new properties so the connections between Records made from one Record will be automatically visible also in the other Record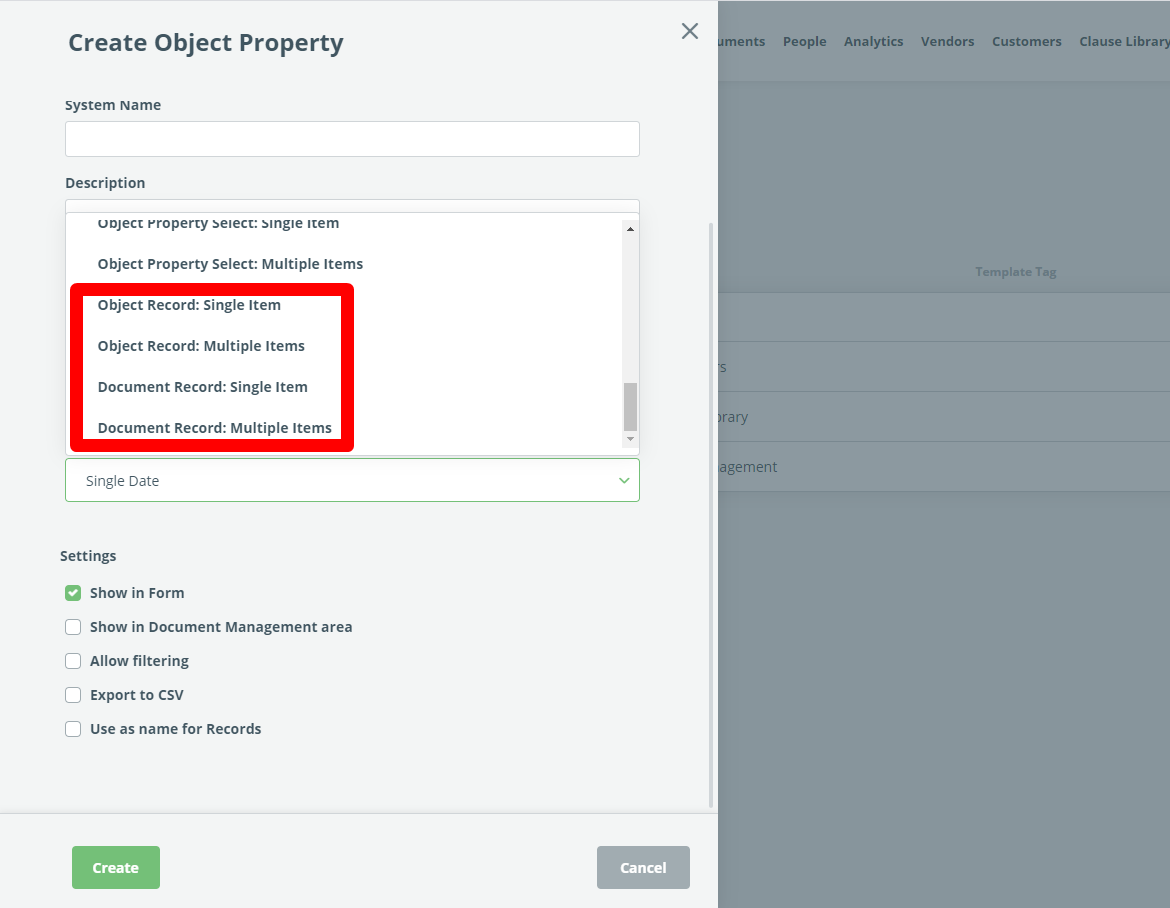 3) New Permissions Related to Objects
There are new user permissions that determine User access to an Object including, view or manage rights to Object Records (add, modify or delete them).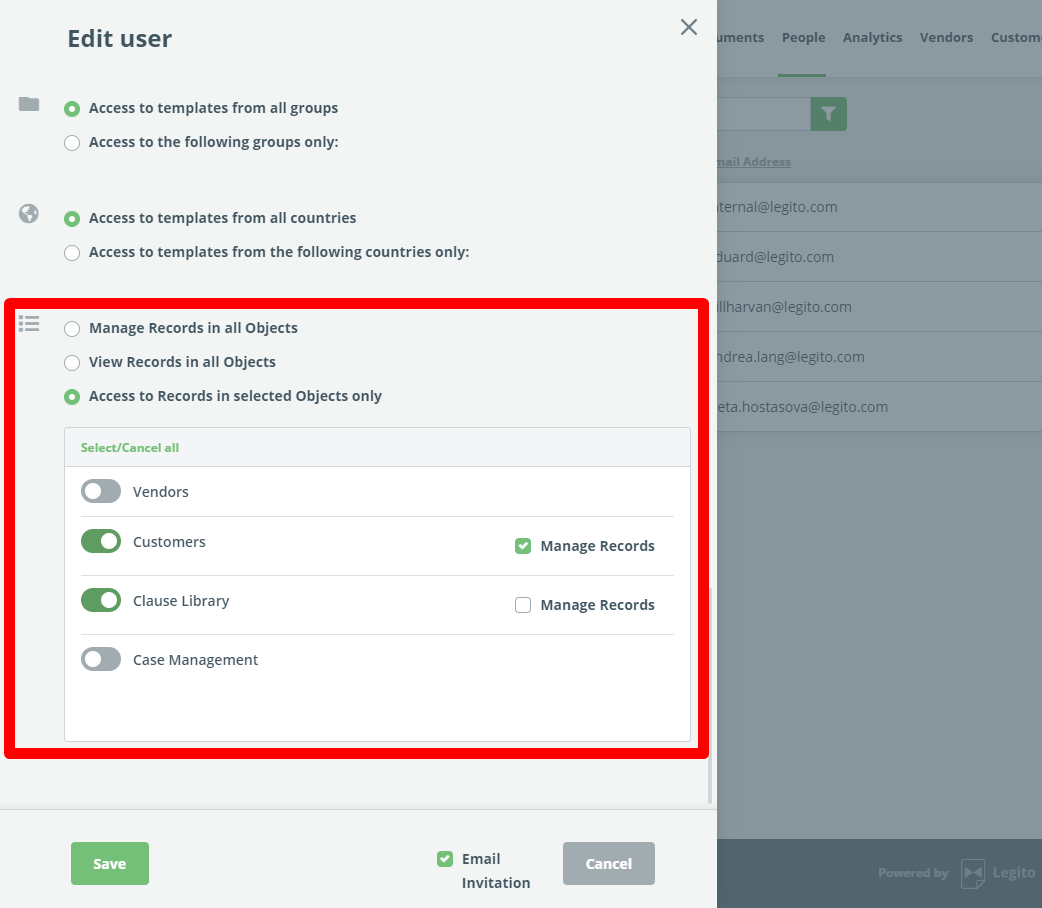 4) Configurable Columns in the Document and Object Management area
It is now possible to edit columns for each Object as well as for the Manage Documents area.
To reorder columns, add or remove a column, set column width or any other parameters, click Edit in the top right corner of the grid. A new icon will appear at each column. Open the menu and choose an action. Afterward, click "Done" in the right upper corner of the grid.
This feature is available to Workspace Admins only. Settings will apply to all Workspace Users.


5) Customize Workspace Navigation
All Objects are accessible from the top Workspace menu.
It is now possible to customize the order of items in the menu, including Dashboard, Manage Documents, Templates, People, and Analytics.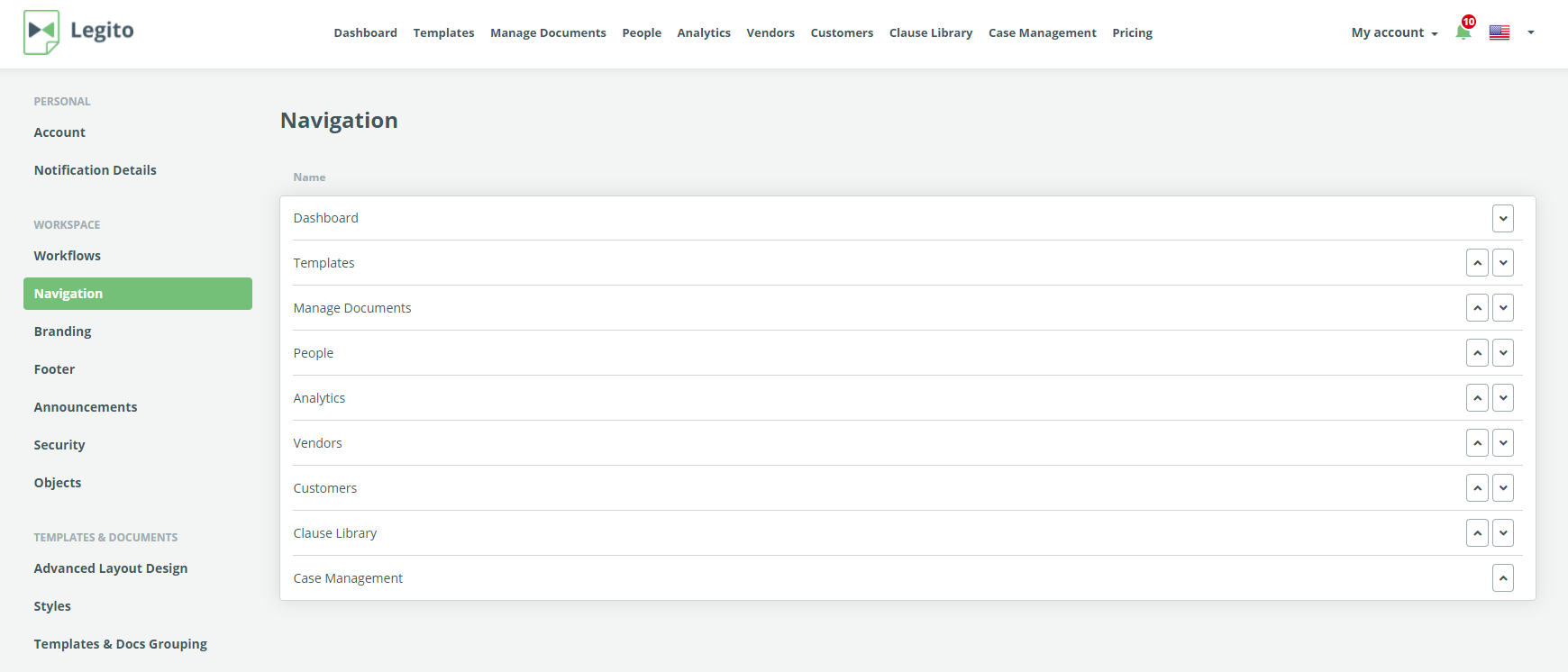 6) New Options for Properties
Record Name – Content of this property will be used to name the Object Record
Show in Form – Only Properties with an activated "Show in Form" checkbox will be displayed in the modal window when adding a new Record (applied to both Document and Object Records).