Legito 3.0: Smart document management for your businesses
Several months of intensive work are over and we are very pleased to introduce you to Legito 3.0! What new technical features have we added to Legito?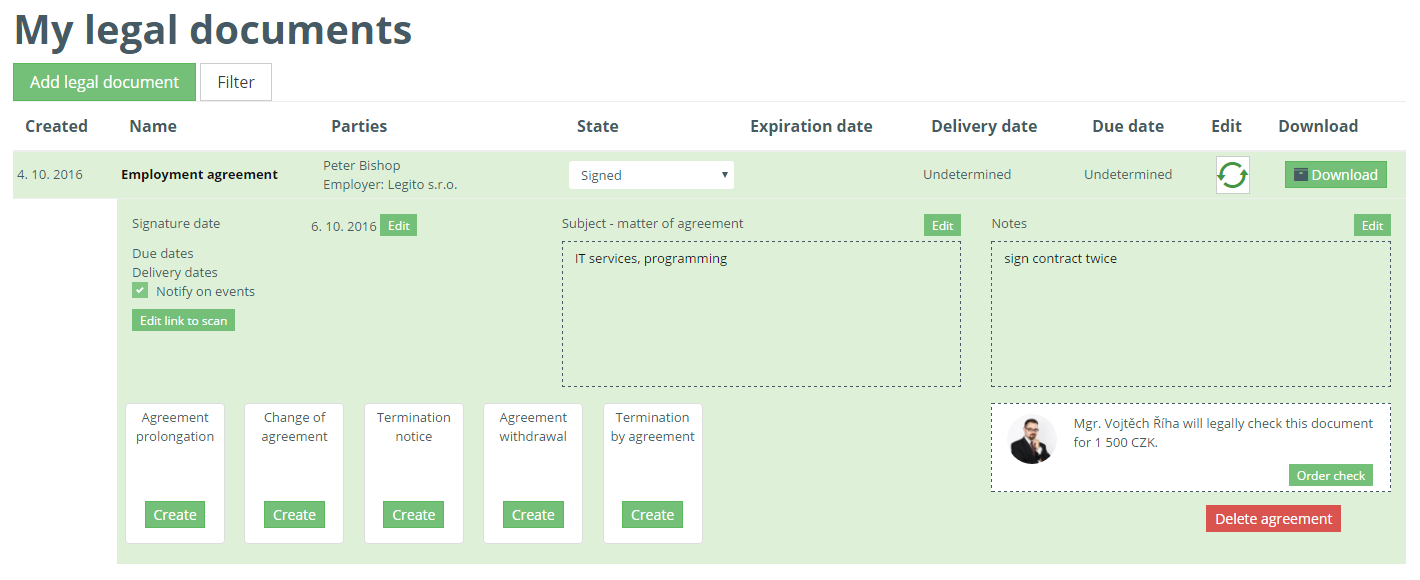 Notifications of important dates: With Legito you'll never forget the date of payment or delivery. Also, Legito will alert you before the end of the contract, so you can extend it.
Extension, amendment or termination of the contract: Just one-click and you can create in Legito any treaty agreement on the extension, amendment or supplement of the contract termination notice, and the resignation agreement.
Management of your legal documents: We enhanced our document repository and now you can see in the table all relevant information. You also have the option to upload your own documents and document scans.
Insertion of records of your own documents: We know that not all documents have been generated from our app. Now you can insert new records of your own documents and you will have all the advantages of our repository of documents.
Filtering: Now you can sort your documents by date, type of contract, group of contracts, parties, etc.
Custom preset documents: Do you have a favorite setting for a specific type of contract? Or you do not want create presets for different customers? No problem! Save valuable time by setting up custom presets for each scenario.
Ability to create custom adjustable patterns: Are you a big corporation with your own legal documents whose filling you would like to make more pleasant for your employees? No problem, your employees can do it in Legito.
We hope that Legito 3.0 will make your business life easier!