Major Release – Summer 2019 (3/3)
As promised in the last release update, we released the last part of the major summer update. Here is the list of all the new powerful features you've asked to be added to Legito:
1) (Un)lock standard texts
You assign a permission to a user that such user is entitled to unlock and change standard texts. Such a user can also lock such texts again. When texts all unlocked, everybody with access to the document can edit such texts. 

2) Generating texts to header and footer
You can dynamically create texts to header and footer of the exported documents. Open Template Editor, click to […] and then to Display header & footer:

You will see new sections for header and footer, and place clauses to these sections. In addition, you can use Links and Conditions to any element in the template. It's not possible, that is, in this first version, to display these sections in a document editor, but they will be in the final Word or PDF document.
If you use your House Style Templates for an advanced export to MS Word or PDF, please insert on a separate line $HEADER_CONTENT$ to the header of your Word House Style Template and $FOOTER_CONTENT$ to the footer. Please note that we recommend for smooth generating to define all types of header and footer in your Word House Style Template (first page, odd pages, even pages). Therefore, if you have more floating pictures in headers or footers of your Word House Style Template, it might not display some of these pictures with the position "behind text".


3) New types of conditions
In addition to texts in the header and footer mentioned above, there are three new types of conditions determining whether a text shall be inserted to header or footer on every page, on the first page only, on odd pages or even pages.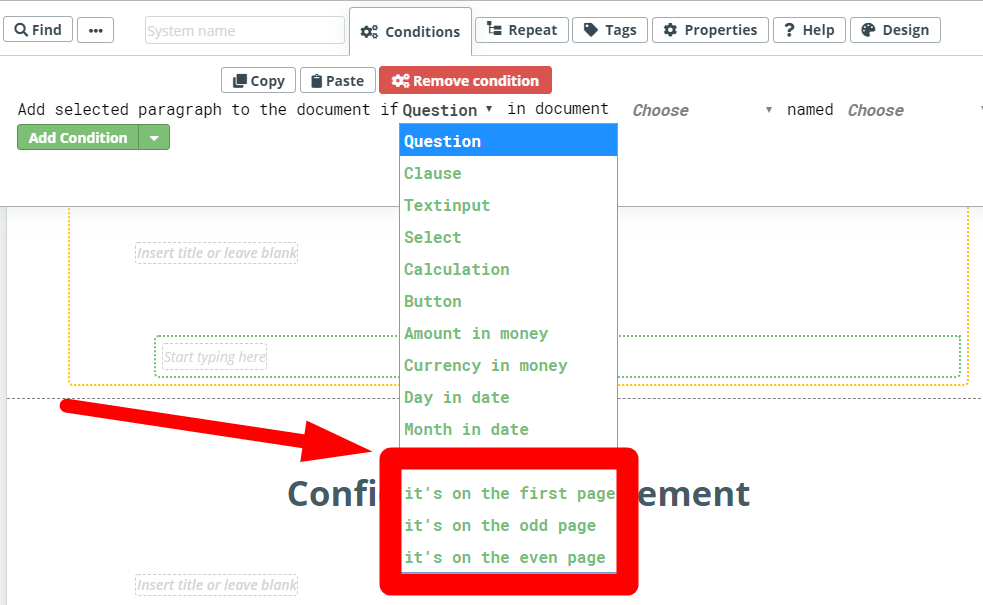 4) Create your scripts for Tags
You know that document automation in Legito is 100% programming-free, but as a part of Legito's integration options for our advanced customers, together with our API, we created this super-powerful feature that allows your programmers to create functions for your specific use-cases. For example, you can use these scripts for closer integration with your company's enterprise, CRM, DMS, invoicing, project management, or other systems.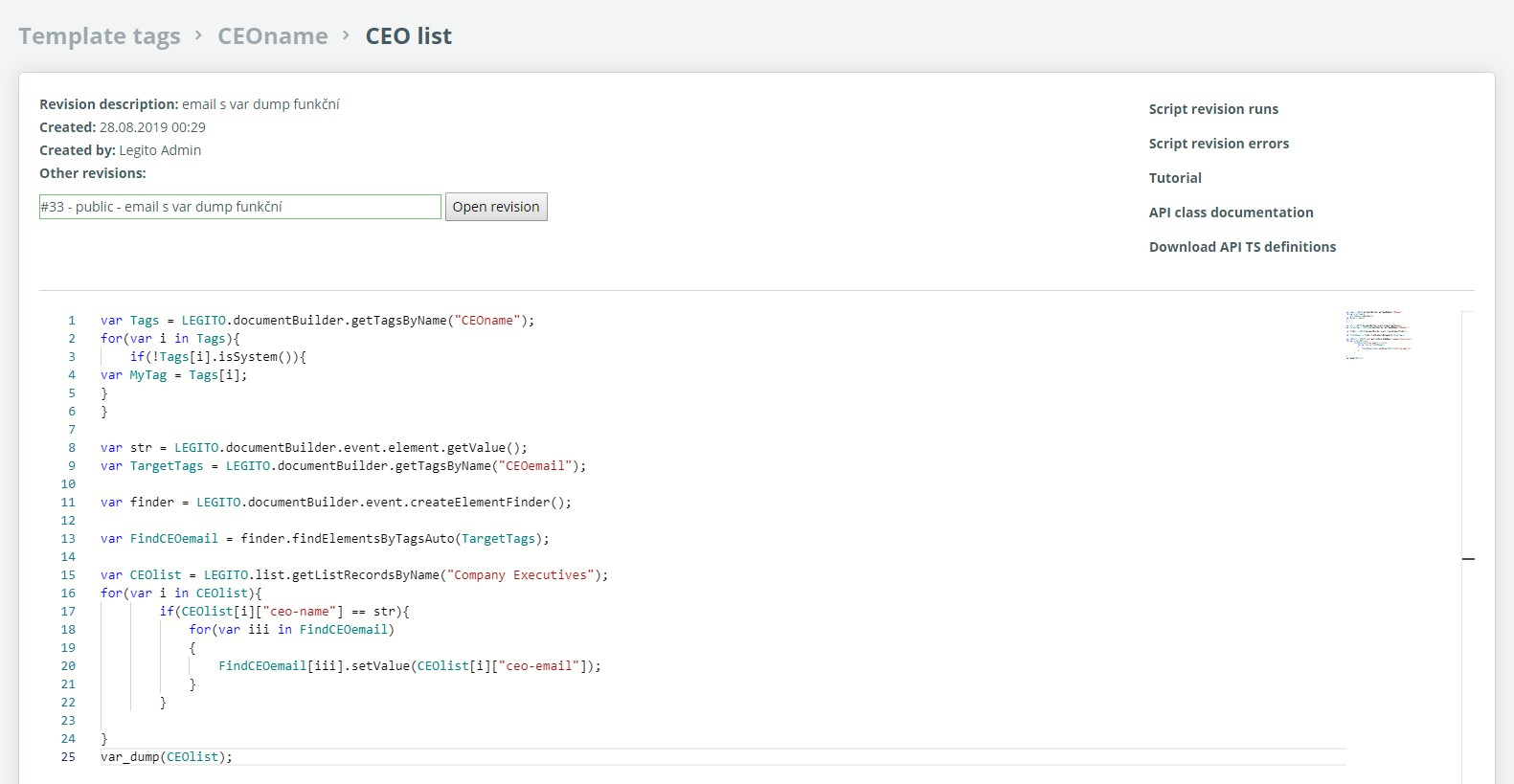 5) Unified Lists
In connection with scripts for tags, we allowed you to basically create your databases (tables with information) in Legito and then use those unified lists via the scripts in your smart documents.

6) More export formats
We added the following export formats to the traditional Word and PDF: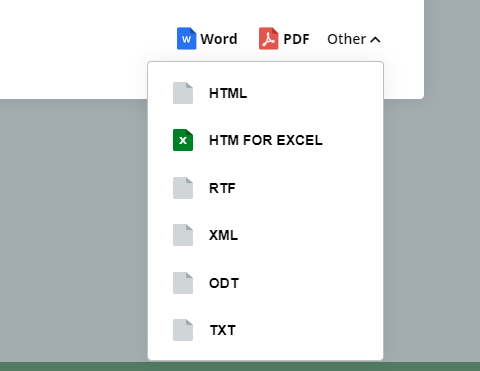 7) Graphical enhancements in Template Editor
We enhanced some UX and graphical issues in the Template Editor, mostly with the responsibility.
8) New permissions
In connection with the new Legito features, we added the following new permission to the ACL:
Export to .html file

Export to .htm file

Export to .rtf file

Export to .xml file

Export to .odt file

Export to .txt file

Can manage house styles

Can email document

Can lock/unlock text elements

Can manage tags

Can manage programming scripts

Can manage custom lists
If you use our API to manage your users, please see our updated API documentation.
9) Microsoft Internet Explorer compatibility
We enhanced the user experience for users that are forced to still use Microsoft Explorer 11. All main features are now working also in IE 11.