We've completed this automated Template!  It's time to Publish the Template.
Step 1: Click the Publish button
Directly to the right of the Save button you will see the Publish button. Click it.
Now, unlike simply saving a Draft Version of the Template which is only accessible to Template Editors (Workspace Administrators) and specially permissioned users, the Published Version is available to all permitted users, allowing these users to generate Documents from the Template, leveraging the logical dependencies to assist with speedy drafting.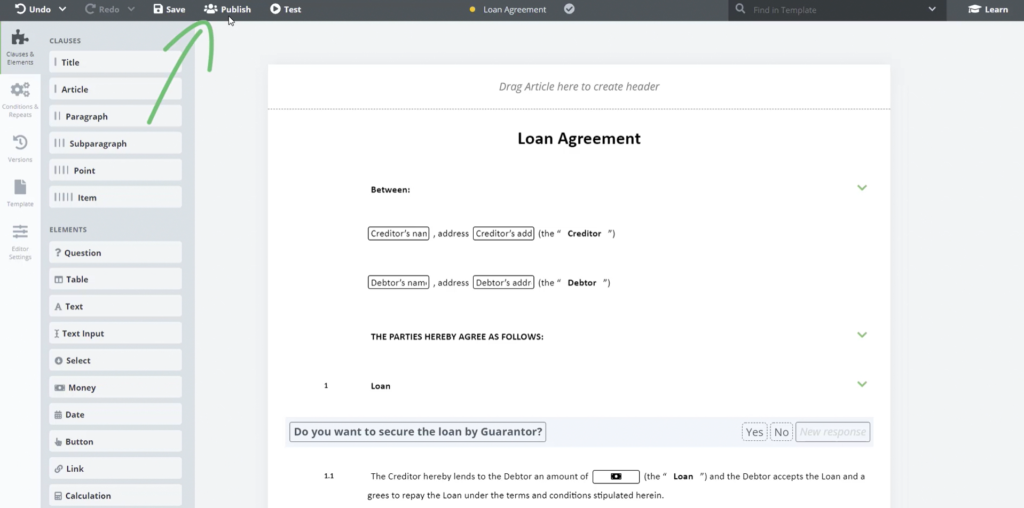 Whenever a Template is updated and ready for use, it must be Published as a new Published Version. This ensures version control: users will only be able to create Documents from the most up-to-date Published Version. Once a new Template version is Published, users working on Documents created from any prior Template will be prompted to merge any new Template updates into their existing Documents.
Additionally, a full revision history of past Versions (Draft and Published) is stored by Legito, and can be found under the "Versions" panel found in the left-hand vertical menu.