Search Knowledge Base by Keyword
Assigned Advanced Layout Design
Assigned Advanced Layout Design helps you to create custom document designs and export documents into Word and PDF files with your corporate identity. This feature lets you make your corporate brand prominent on document letterhead using images, logos, and Microsoft Word's native style features, among these being alignments, font types, and multilevel numbering.
To use Assigned Advanced Layout Design, simply upload a Microsoft Word document (.docx format) to the Assigned Advanced Layout Design section of your workspace (learn more in the Workspace Administration area of the KnowledgeBase).
Typically, Legito's standard "Styles" feature is sufficient for branding your documents with your corporate identity. However, for those instances when a more complex design is required, Assigned Advanced Layout Design may be the proper tool.
If the Workspace Admin has saved more than one Advanced Style to your Workspace, it is possible to assign a specific Assigned Advanced Layout Style to each template. Doing so will ensure that all Word and PDF documents generated from that template will always have corporate branding as defined by the assigned Advanced Style.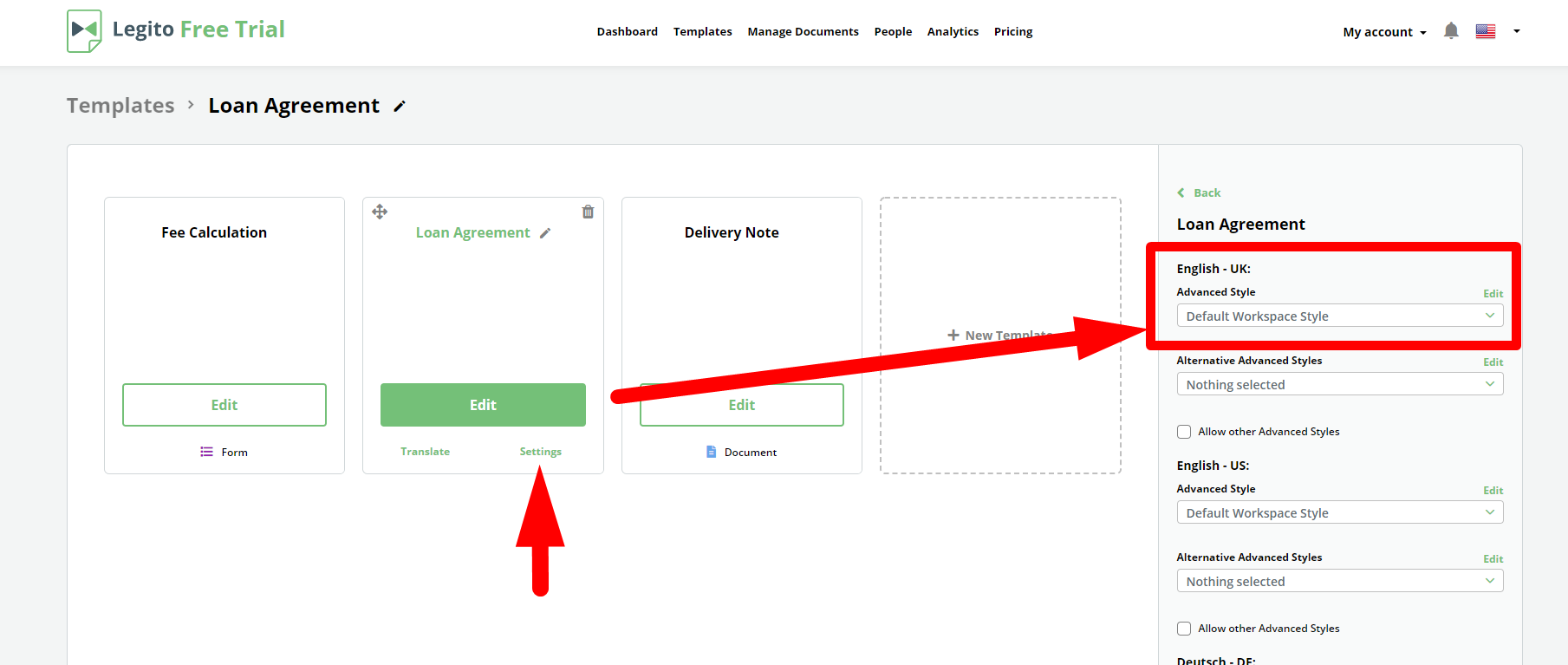 It is also possible to select  Alternative Assigned Advanced Layout Design for your templates. This can be useful in those instances when, in addition to the assigned Advanced Style, a document may need to be exported as a Word or PDF file under a different corporate brand, perhaps under the letterhead of a company division or an affiliate.

The main benefit of the Assigned Advanced Layout Design feature is the ability to maintain a single template to which multiple styles can be applied. After generating a document from the template, when exporting the document to a Word or PDF file, users will have the option to apply the appropriate corporate identity directly from the Document Export window in Legito Document Editor or from the Document Management area.
Advanced users with templates translated in multiple languages are able to assign Assigned Advanced Layout Design and choose alternative Assigned Advanced Layout Design for each language in which a template has been published.