Search Knowledge Base by Keyword
Document Timeline
Legito Document Timelines provides a detailed and comprehensive view into the lifecycle of all documents managed in your Legito Workspace. You can now better track your documents, analyze vast amounts of data to gain insight into your processes and increase efficiency.
Legito automatically tracks 37 different Document and Document Record related events. These events are:
Type
Document Owner Change
Document Shared
Document Sharing Removed
File Upload
File Deleted
Link Added
New Document Version
Document Deleted
Document Restored
Stage Change
Expiration Date Revised
Signature Process Started
Signature Process Completed
Signature Process Cancelled
File Download
Document Download
Document Record Updated
Document Viewed
Expiration
Payment Date
Delivery Date
Signing Date
Approval
Rejection
Decision Cancelled
Approval Process Started
Overall Approval Granted
Overall Approval Rejected
Approval Reset
External Sharing Activated
External Sharing Deactivated
Document Created
Batch Generation
Document Sent by Email
Locked Editing
Unlocked Editing
Confidential
Non-Confidential
It is possible to filter and sort these events according to their type and/or user whose action created them to drill down to the data that you need.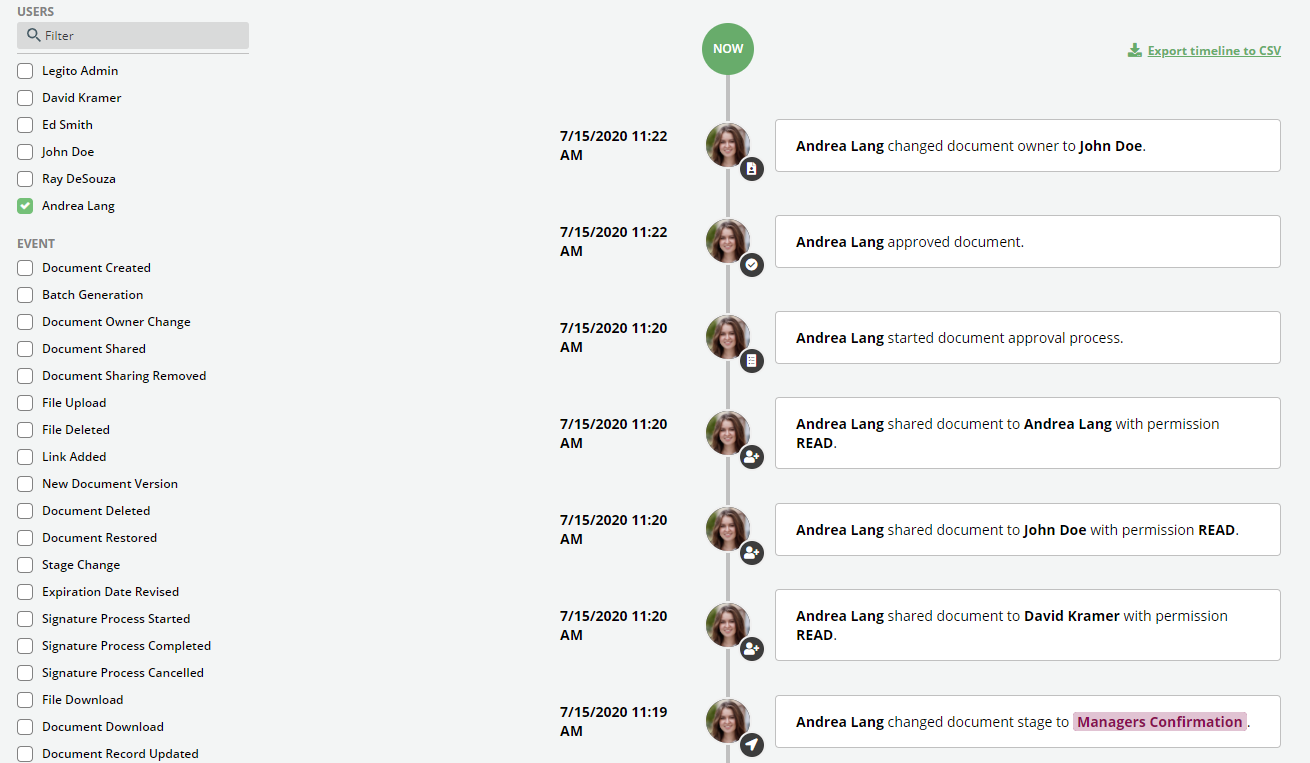 Additionally, all data points may be exported to a CSV file to be molded into a report format that best fits your needs.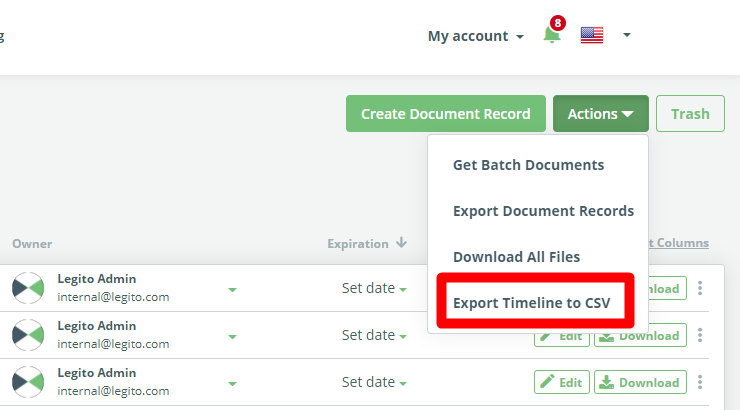 In order to assure that your Document Timeline Data is "clean", it is possible to configure user settings to allow Users to view and download documents in an "incognito mode" and avoid having these events display in the Timeline. This may be appropriate for Workspace Admins, Template designer, or managers who may want to access and view documents but are not truly part of the intended Workflow.
Legito Document Timeline shall track events commencing July 15, 2020.