Legito is committed to your success.
After executing your Legito license agreement, the journey has only just begun.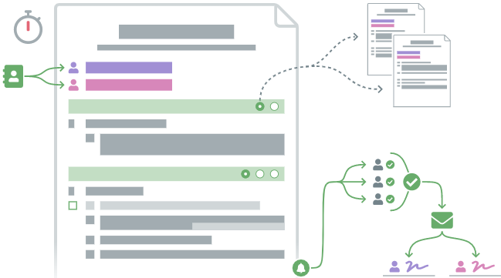 You already know that Legito's no-coding software is easy to adopt, making it possible for anyone to automate complex documents quickly.
We leverage our experience to automate documents and processes in the most effective ways. This extra little boost can ensure that projects start off, and stay, on track.
Starter
20 Automated Pages (per year)

2 Modified Templates (per year)

1 Automated Workflow (per year)

1 Consultation Hour (per year)
Basic
60 Automated Pages (per year)

5 Modified Templates (per year)

3 Automated Workflows (per year)

3 Consultation Hours (per year)
Premium
150 Automated Pages (per year)

15 Modified Templates (per year)

10 Automated Workflows (per year)

10 Consultation Hours (per year)
Corporate
400 Automated Pages (per year)

40 Modified Templates (per year)

30 Automated Workflows (per year)

30 Consultation Hours (per year)
All items in pricelist are listed per year.
Automated Template Design
Conversion of your existing documents to Legito Template Editor
Template automation in Template Editor
Automating additional pages in Legito Templates
Consultation on how to automate documents
Creating Legito Styles and Advanced Layout Designs
Automated Template Modifications
Creating new Questions, Selects or Inputs to an existing content
Creating and modifying logical dependencies (Conditions, Repeats, Links, Tags) in an existing content
Automated Workflow Modifications
Modification of existing Workflows
Creating new Workflows and assigning them to specific Template Suites or Record Types
Consultations on how to use Workflow Editor
General Consultations
Workspace settings and administration
User permissions
Document Management settings and Document Record Properties
Dashboard personalization
Integrations
How can you keep the prices so competitive?
Thanks to Legito's unique no coding Template Editor and Workflow Editor, and the level of experience and expertise of our Legito Legal Engineers, we are able to automate your documents and processes quickly.
Are remote consultations available?
Yes, all Legito Professional Services are ordered online and provided remotely, directly to your workspace. Of course, our experts are available to schedule calls as required.
How qualified are your experts?
Every Legito Legal Engineer is an expert at implementing Legito and at overall project management. Each of our experts is Legito certified, having completed our rigorous training.
Do you speak my languages?
Legito has native language speaking legal engineers of English, French, German, Italian, Polish, Russian, Spanish, and more. Combined with our trusted implementation partners, we have you covered in any language.
What are the parameters of a page?
For the Template Automation purposes, a page is 1,800 characters including spaces. Comments (instructions) in your Word or other document are excluded.
Are the services transferable?
Hours / Pages / Documents of service may accumulate and be carried month-to-month within the same license year (e.g. it is possible to use most or even all in the first month or two).